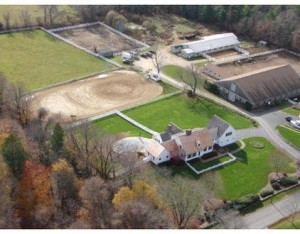 Dreamfield Farm was born in 2010 when the Hennessey family purchased the property in North Marshfield, MA. The desire to be around and the passion for the horses was the force behind the decision to create a successful business that involves the development of horses and riders from the most basic level to the most advanced one. Little by little they have been improving the grounds with brand new textile footing in the indoor ring, new stalls featuring Comfort Stable mats, a brand new wash stall with hot and cold water, new paddocks and many more. Dreamfield Farm was named like that for a reason, because it is a dream coming true for all of us.
Our Mission
We strive to provide a supportive, safe and educational environment in which horses and their owners can learn and grow together as partners. Our focus is on the practical and theoretical application of the classical riding methodology throughout all levels. The well being of every horse boarded at our farm is our main priority and we aim to provide nothing but the best care for your equine partner.
To visit, our farm address is:
Dreamfield Farm
37 Corn Hill Lane
North Marshfield, MA 02059
feel free to email Simone Detemple, our  Resident Trainer @ s.detemple@dreamfieldfarm.net or by phone 617-8758344.