Simone is our Head Trainer. She has an extensive background in horse training, instruction and care. She is a USDF Bronze Medalist and  a Massachusetts licensed instructor. She trains horses and riders of all levels in dressage. Dressage has been a passion for Simone as it can be seen in every lesson she teaches. Click here to learn more about Simone.
Simone offers from single lessons to full training of riders and horses. Her training program focuses on the horse-rider communication skills through a balanced and correct seat. Riders will learn how to communicate efficiently with their horses. A customized training program will be developed by Simone according to some key individual factors to get the best result for each combination.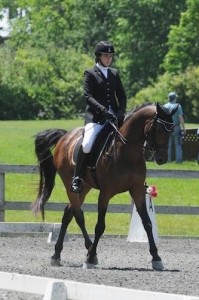 As part of her Youth Program, Simone developed an exchange program between Dreamfield Farm and her trainer and mother's facility in Brazil, Haras Camboata. This program gives the opportunity to young riders to train and show abroad. American students can go to Brazil and train there with Nydia and show at the "Torneio Infanto-Juvenil de Adestramento" (Youth Dressage Competition) and brazilian students have the opportunity to come to the US and train at Dreamfield and show at either "Lendon Gray's Youth Dressage Festival" and/or "CADI – Children of the Americas Dressage Invitational". To learn more about this program, please click here.
Please contact Simone for rates. Coaching at shows is also available. Truck-in lessons welcome.

 Simone is proudly sponsored by Triple Crown Nutrition
All riders must wear an ASTM-SEI approved helmet and riding shoes or boots (with heels).
NO SNEAKERS, SANDALS OR SHORTS MAY BE WORN TO RIDE. NO EXCEPTIONS!
Simone Detemple
Ph#: 617 – 875 – 8344